Project Portfolio
Bank of Dudley
The renovation and expansion of the Bank of Dudley's Downtown Dublin location, has an enormous amount of history embodied by the buildings occupied by the bank. The bank's expansion into the adjacent building is located at 210 W. Jackson Street, which was formerly occupied by Attorney and local historian, Scott Thompson. It has a rich tradition encompassing several different types of occupants. One of the most interesting occupants were R.L and Gritsie Stephens. Their department store included a fur vault and grand staircase used for beauty pageants. It was modeled after the New York department stores of that time period.  The historical photos below are provided by Scott Thompson.
The renovation took place in multiple phases to allow the Bank of Dudley to remain operational throughout the project. DCCO is extremely proud to have preserved such a magnificent piece of history and to serve the Bank of Dudley as their Construction Manager on this project.
Pictures from the past.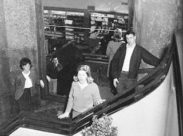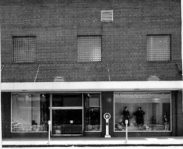 New Renovation